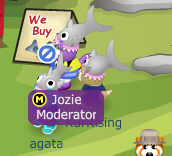 A
Moderator
is a
panda
that helps keep the world of
Pandanda
safe. You can identify a moderator by their yellow sweater with an M on it and by their purple speech and name bubbles. You can also tell if someone is a Moderator by checking to see if they have the word "Moderator" and an M in a yellow circle under their Panda's name. Unlike most Pandas, they do not have a buddy list. They are also recognized as
famous pandas
.
Moderators
Edit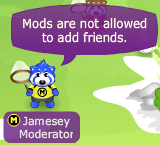 Jozie
SusieQ
PandaGuide
Jule
Beannie
Moonie
Romulus
Sunleaf
Rainbow787
Unicorn300
Pheonix
Dragonfire
Sunshine
Diamondstar08
RedRose
Oceanbreeze
Misty32
Harp
Jinxsey
MoonGlow
Skippers
Sammiee
Jamesey
Olliee
Gemmza
Ad blocker interference detected!
Wikia is a free-to-use site that makes money from advertising. We have a modified experience for viewers using ad blockers

Wikia is not accessible if you've made further modifications. Remove the custom ad blocker rule(s) and the page will load as expected.